The new Plant Health Regulation is ready to take off as of 14 December 2019
December 10, 2019
Pests threaten plant health. To fight the increased risks owing to the further globalisation of trade and climate change, the European legislature has adopted measures concerning the determination and reduction of risks imposed by pests: Regulation 2016/2031. The protective measures affect various stakeholders that deal with plants, plant products or other objects such as soil or growing medium that can host pests (professional operators). The general aim of the Regulation is to prevent harmful organisms from entering or spreading in the European Union.
Regulatory framework
Regulation 2016/2031 on protective measures against pests of plants entered into force on 13 December 2016. As from 14 December 2019, it will apply alongside various delegated and implementing acts of the European Commission that contain lists and technical details. Regulation 2016/2031 replaces the previous regime on protective measures set out by Directive 2000/29/EC as the European legislature deemed it was time for a harmonised update.
Four categories of pests
Union quarantine pests present high risks. It is necessary to prevent their introduction into and spread within the entire Union territory. If found, they should be eradicated. The same applies to Protected zone quarantine pests regarding those areas of the Union territory in which they are not present, the so-called protected zones. Professional operators – essentially anyone that is involved professionally in activities concerning plant, plant products and other objects – have particular obligations regarding quarantine pests. Where a professional operator becomes aware of such a pest, the operator will need to notify the authorities, take measures to prevent the pest from spreading and withdraw its relevant products from the market.
The most severe pests are labelled "Priority pests". They are a subcategory of the Union quarantine pests. The European Commission has currently identified 20 such pests. Special provisions apply and Member States have to prepare contingency plans, simulation exercises, and action plans for the eradication of these pests.
Union regulated non-quarantine pests are known to occur in the Union territory. They do not have quarantine status but their presence should be limited. Regulated non-quarantine pests relate to pests that are mainly transmitted through specific plants for planting.
Protective measures concerning the introduction and movement of plants, plant products and other objects
Pests are hosted by plants, plant products and other objects (such as soil or growing medium). To control the pests, Regulation 2016/2031 restricts the introduction and movement in the Union of these hosts. Professional operators should be on the lookout for (at least) the following four categories.
The introduction into the Union or a protected zone of certain hosts (such as isolated bark of the Populus from the Americas) is flat-out prohibited. No risk-mitigating measures are available for these plants, plant products and other objects. The introduction and movement of other hosts (such as plants for planting with roots, grown in open air, originating from any third country) is subject to special requirements. A third category of hosts is deemed "high-risk" based on a preliminary assessment. Their introduction is provisionally prohibited. Finally, temporary measures may also be imposed for hosts that are likely to pose newly identified pest risks or other suspected phytosanitary risks. The latter two are new in comparison to Directive 2000/29/EC.
Specifically regarding plants for planting, their introduction and movement in the Union may also be restricted if the presence of Union regulated non-quarantine pests on those plants for planting is above certain thresholds.
Phytosanitary certificates and plant passports
Certain documentation is required as an additional safeguard to show that plants, plant products and other objects are free from pests and, where applicable, comply with the special requirements set out above. Regarding the introduction into the Union (or a protected zone) of certain hosts, a phytosanitary certificate, issued by a third country, will need to be presented. Adversely, for export out of the Union, a phytosanitary certificate for (re-)export will need to be issued if required by the import requirements of a third country.
For the movement of certain hosts (such as all plants for planting, other than seeds) within the Union, plant passports are required. It is important to note that direct supply to end-users is generally exempted from the plant passport requirement.
A plant passport can look like this:
Professional operators must register and keep records
To ensure effective implementation of Regulation 2016/2031, certain professional operators (e.g. those that would like to introduce or move hosts in the Union for which a phytosanitary certificate or plant passport is required) must register with the authorities.
Furthermore, for reasons of traceability, professional operators are required to keep records of the plants, plant products and other objects supplied to them by professional operators and supplied by them to other professional operators.
For questions, please contact Philippe de Jong or Bregt Raus.
Recommended articles
September 05, 2023
A lot of uncertainty has existed about the requirement for hospitals to notify M&A transactions to the Belgian Competition Authority ("BCA"). On 28 June 2023, the BCA decided to partially lift the stand-still obligation regarding a concentration between two hospitals, and it further clarified the applicable rules in a follow-up Communication of 14 July 2023.
Read on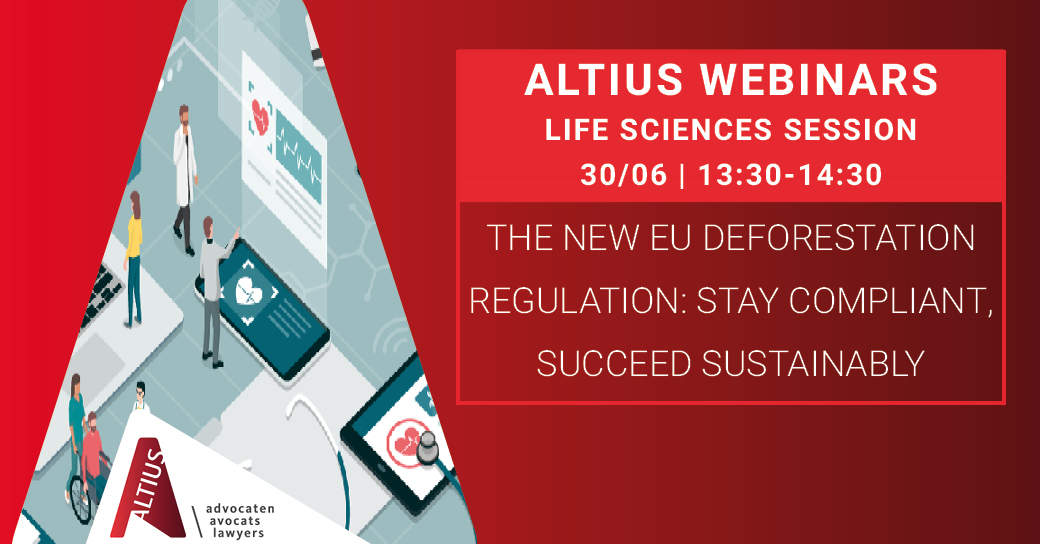 July 03, 2023
In this Life Sciences session, the experts from our agri-food law team Philippe de Jong and Bart Junior Bollen provided valuable insights into the Regulation's implications and equiped businesses with the necessary knowledge to ensure compliance in this evolving landscape.
Read on
June 14, 2023
On 17 May 2023, the Belgian Medicines Agency (FAMHP) announced that marketing authorisation holders (MAHs) have three years to comply with the prohibition of "negative formulations" on the packaging of medicinal products for human use.
Read on