Towards a harmonised employee status by levelling up… Janssen Pharmaceutica sets an example
September 20, 2019
In the life-sciences industry, many companies still make a distinction between the blue-collar and white-collar members of their workforce, often with significant differences in the applicable employment terms and conditions. Very recently, a major player in the pharmaceutical sector, Janssen Pharmaceutica, has entered into a company CBA with the social partners that provides for full harmonisation between its blue-collar and white-collar employees, by abolishing the blue-collar worker status for all its workers from 1 October 2019. It remains to be seen how the sector will react and whether other pharma companies will follow.
Towards a harmonised status… the end is not near yet…
The distinction between blue-collar workers and white-collar employees is already for many years at stake. After a first ruling by the Constitutional Court in 1993 and some minor legislative initiatives, the Constitutional Court delivered a new milestone judgment in 2011. In that ruling, the Constitutional Court clearly decided that the differences between blue-collar workers and white-collar employees regarding the applicable notice periods and modalities of the carenz-day constitute a violation of article 10 and 11 of the Constitution. However, the Constitutional Court softened the consequences of its own decision by granting the legislator an additional transition period of 2 years for establishing a legal framework that would provide for a harmonised employee status.
It could be expected that the legislator would take the opportunity to work out a fully unified and harmonised status and abolish all the differences. Unfortunately, the legislator opted for a minimalist approach by only harmonising the notice periods and by abolishing the carenz-day, resulting in the Single Status Act of 26 December 2013, which came into force on 1 January 2014.
Therefore, important other differences between blue-collar workers and white-collar employees have continued to exist, such as the rules on vacation pay and guaranteed salary and the organisation of the Joint Committees ("Paritairé Comités" / "Commissions Paritaires"), resulting in sector level collective bargaining agreements incorporating (often significant) different employment terms and conditions for blue-collar workers and white-collar employees. In function of their activities, companies active in the life sciences industry might fall under the scope of application of Joint Committee n° 100 for their blue-collar workforce and Joint Committee n° 200 or n° 207 for their white-collar employees.
The different status between blue-collar workers and white-collar employees is perceived as being outdated and no longer justified; this is a result of the changing employment market in which the tasks, functions and responsibilities of blue-collar workers and white-collar employees have become more and more aligned as they are all are part and integrated within the same production process(es).
Due to the lack of legal initiatives, the private sector seems to be taking this matter into its own hands.
Is Janssen Pharmaceutica setting a trend towards more company initiatives?
Last Friday (13 September 2019), it was announced in the media that Janssen Pharmaceutica and the social partners had concluded a company CBA abolishing the blue-collar worker status from 1 October 2019. From that date, all blue-collar workers will switch to a (more beneficial) white-collar employee status. The complex practical aspects of this arrangement are set out in a company CBA. Amongst other things, going forward, former blue collar workers will receive a gross monthly salary as opposed to a gross hourly salary and will become entitled to vacation pay according to the white-collar employee calculation method.
By concluding this CBA, Janssen Pharmaceutica and the social partners have worked out for themselves a "solution" to the difference between blue-collar workers and white-collar employees. Based on the available information, it seems that the parties have opted for a levelling-up approach in which the employment terms and conditions of the blue-collar workers will become aligned with those of the white-collar employees, to the extent more favorable.
By taking this action, Janssen Pharmaceutica is setting a trend and, while awaiting new legislation, it can be expected that the trade unions will lobby for similar levelling-up harmonisation CBAs in the sector.
Entering into a company level harmonisation CBA triggers a lot of pitfalls
If your company is considering entering into a company harmonisation CBA as well, then please pay attention to the following pitfalls:
So far, the difference between blue-collar workers and white-collar employees still exists and this is being expressed in various rules (such as the rules on vacation pay; sector level CBAs, imposing working time rules, implementing sector level supplementary pension plans, etc.), that still must be complied with.
The question arises to what extent a company CBA can deviate from a higher source of law. Based on article 51 of the Act of 5 December 1968 on collective labour agreements and joint committees, a company CBA cannot deviate from the law as well as national and sector level CBAs.
Although the signatory parties to a company harmonisation CBA can contractually agree that the blue-collar workforce will be considered as white-collar employees from a certain date, the question arises to what extent such provision is enforceable and binding vis-à-vis the individual employees, labour courts and other third parties, such as the social security administration or the vacation fund.
Furthermore, one should anticipate legislative changes and developments in the future.
It might be that the modalities of such harmonisation CBA will not fit within a future legislative framework. A duly drafted CBA should anticipate such developments by providing for the necessary flexibility.
Finally, specific wording should be included to avoid that the individual normative provisions of such a company CBA become incorporated in an individual's employment contract as a result of which the provisions of a company CBA continue to have effect, even if abolished afterwards.
Analysis and conclusion
It remains to be seen whether other companies in the sector will follow Janssen Pharmaceutica's initiative, and, in the affirmative, whether they will also opt for a similar "levelling-up approach". In any event, when entering into a company CBA, it is of the utmost importance that such a CBA is duly drafted to protect the company's interests.
If you would like to know more about this topic, then please contact our Employment team.
Recommended articles
September 27, 2023
ALTIUS is delighted to announce that Kirian Claeyé has been promoted to partner as per September 2023. Congratulations Kirian!
Read on
September 05, 2023
A lot of uncertainty has existed about the requirement for hospitals to notify M&A transactions to the Belgian Competition Authority ("BCA"). On 28 June 2023, the BCA decided to partially lift the stand-still obligation regarding a concentration between two hospitals, and it further clarified the applicable rules in a follow-up Communication of 14 July 2023.
Read on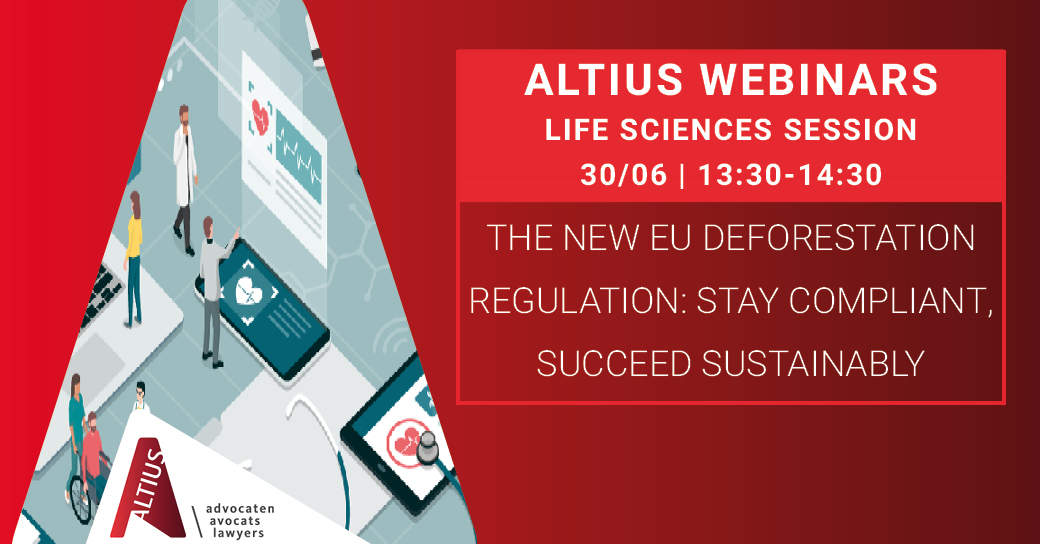 July 03, 2023
In this Life Sciences session, the experts from our agri-food law team Philippe de Jong and Bart Junior Bollen provided valuable insights into the Regulation's implications and equiped businesses with the necessary knowledge to ensure compliance in this evolving landscape.
Read on