ALTIUS invests heavily in legal tech
September 5, 2019
The first development is a scalable GDPR application that combines ALTIUS' expertise with the LeyQi automation tool
ALTIUS invests heavily in innovative legal tech applications and aims to be a pioneer among Belgian law firms. Through its investment in legal technology, ALTIUS aims to improve the efficiency, speed and scalability of its legal services, and to strengthen its attractiveness to the millennials. The firm has achieved a first result with a GDPR application for data protection professionals. ALTIUS also works on the development and implementation of legal tech solutions for other legal practices, including contract law and compliance, using various technologies such as automatic contract generation, artificial intelligence and blockchain. In doing so, ALTIUS relies on partnerships with start-ups, hackathons with lawyers and the selection and training of legal engineers.
"By investing in legal tech applications, we are responding to digitization and increasing legal complexity. These require ever more advanced knowledge management and specialization. It also increases the efficiency of our services, reduces our cost structure and improves our attractiveness when recruiting talented young lawyers," explains Gerrit Vandendriessche, partner at ALTIUS.
For the development and integration of legal tech solutions, ALTIUS envisages co-innovation tracks with start-ups, in which ALTIUS provides the legal content and the start-ups the technology. A first collaboration has already been established with LeyQi, a legal tech start-up: the result is a GDPR application used by ALTIUS for its GDPR services. LeyQi also markets this application to other data protection professionals. The application helps to more efficiently manage GDPR compliance processes. In a later phase, ALTIUS also intends to develop solutions in other legal fields in order to better serve its clients.
An app to ensure GDPR compliance
The new application, which combines ALTIUS' expertise with that of LeyQi, considerably simplifies the work of data protection professionals.
"Particularly complex and demanding, the GDPR is a major concern for many companies. The obligation of accountability imposed on them is a real challenge. To support the work of data protection experts and improve their efficiency, we have developed a high-performance compliance application with LeyQi. Such a structural combination of legal and ICT expertise and means is a first for the Belgian market", continues Gerrit Vandendriessche.
The application contains intelligent questionnaires, which allow legal professionals to work more efficiently and quickly on the documentation, assessment and reporting of GDPR compliance. For lawyers and other data protection professionals, this is often where the problem lies. The preparation of mandatory legal documents (including the "record") is also carried out automatically via the application. The legal complexity of the GDPR usually makes this administrative work very time-consuming, but with the new GDPR application, the time required is greatly reduced. In addition, the app is designed to be linked to the blockchain in the future. Thanks to the cost efficiency of the application, GDPR experts can more effectively support companies with a professional tool.
Legal engineer, a new key job
The growing importance of legal tech also requires the involvement of legal engineers, experts capable of translating the law and rules into computer logic and new technologies. The professional profile of a legal engineer is new and rare in the legal profession. ALTIUS therefore actively invests in the selection and further training of legal talent with good ICT skills. "Legal engineers are of crucial importance to strengthen our service. These profiles are essential for developing and integrating legal solutions that are legally correct, efficient and practical. However, this is what is often missing in applications that have been exclusively designed from the IT spheres. Partnerships such as the one between ALTIUS and LeyQi are an answer to this", comments Louis-Dorsan Jolly, senior lawyer and legal engineer at ALTIUS.
Hackathon with lawyers
ALTIUS also plans hackathons with lawyers to stimulate the development of innovative legal tech solutions to meet the specific needs of legal services.
"We are convinced of the need for legal tech to support lawyers. The bar cannot miss the train of unbridled automation or the use of new technologies such as artificial intelligence and blockchain. This does not represent a threat to our sector, but a breeding ground for growth, because it allows us to exploit our expertise more efficiently as a raw material and make it grow. That is why we are investing heavily in new technology, because lawyers cannot escape digitisation either," concludes Gerrit Vandendriessche.
Recommended articles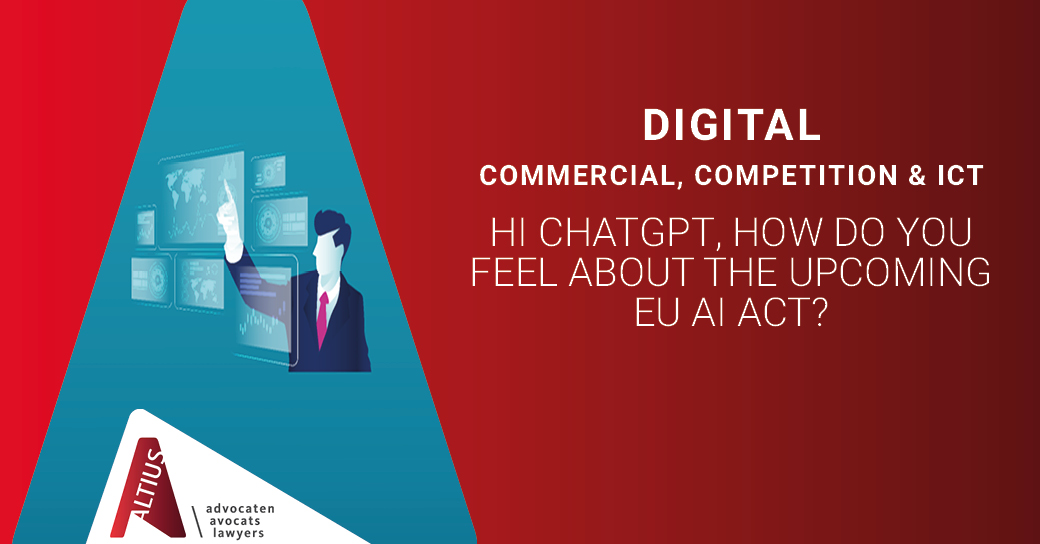 June 16, 2023
On 14 June 2023, the European Parliament adopted its positionon the draft AI Act, which brings one step closer an EU regulation for generative AI and other AI systems. This blog gives the highlights of the current draft text, taking into account the newest amendments that have been proposed.
Read on
February 23, 2023
ALTIUS' data protection team puts the spotlight on recent GDPR and data protection developments during dedicated webinars. Don't miss the opportunity to keep up with the most recent GDPR and data protection developments on 9 March from 12:30 to 13:30.
Read on
July 07, 2022
The European Commission has presented its Proposal for a Regulation on the European Health Data Space (the "Proposal"). While it aims to strengthen the rights of individuals and unlock data's potential for research purposes, it also adds complexity to an already extensive legal framework.
Read on