The N°1, healthy, rich in learning webinar about claims
February 28, 2023
Is your product a No. 1 seller? Good for your health or rich in fiber? Does it contain no parabens? Do you want to shout it loudly from the rooftops or at least on your packaging?
During this webinar, you will get an overview of the principles that need to be respected in order to claim your products legally. Our experts will discuss the rules for No. 1 claims, cosmetic claims and health and nutrition claims, and will give you an overview of the most important issues as well as practical guidelines.
This webinar has been awarded one point of continuous education by the Institut des Juristes d'Entreprise / Instituut voor Bedrijfsjuristen.
We hope to see you online on 14 March, from 13:30 to 14:30!
Recommended articles
September 27, 2023
ALTIUS is delighted to announce that Kirian Claeyé has been promoted to partner as per September 2023. Congratulations Kirian!
Read on
September 05, 2023
A lot of uncertainty has existed about the requirement for hospitals to notify M&A transactions to the Belgian Competition Authority ("BCA"). On 28 June 2023, the BCA decided to partially lift the stand-still obligation regarding a concentration between two hospitals, and it further clarified the applicable rules in a follow-up Communication of 14 July 2023.
Read on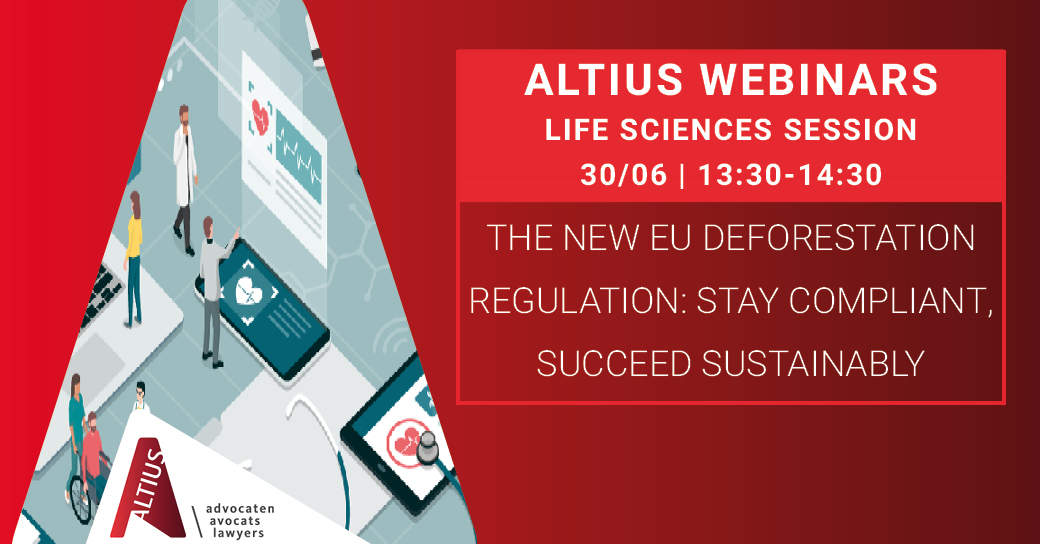 July 03, 2023
In this Life Sciences session, the experts from our agri-food law team Philippe de Jong and Bart Junior Bollen provided valuable insights into the Regulation's implications and equiped businesses with the necessary knowledge to ensure compliance in this evolving landscape.
Read on